Mission Statement
Biblical Webpages is dedicated to spread the gospel of Jesus Christ around the world, one web-site at a time.
---
Biblical Webpages' Roots
Hello, my name is Michael Lowe. In early 1999, I started Biblical Webpages in the response to the overwelming demand for experienced web-designers to create web-sites for Christian Organizations.
---
Previous Work


Indian Valley Elementary was one of my first webpages, this web-site was built prior to Biblical Webpages, but I think it should be noted.







Proseychi (Greek word for prayer) is one of my newest web-sites. This one has more of a Professional feel to it.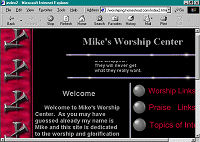 Mike's Worship Center is one of my personal sites. In this site I used a lot of animation and graphics.




---
Biblical Webpages 2001